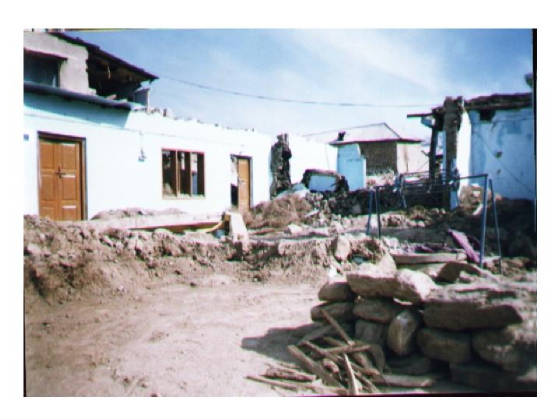 Earthquake in Pakistan
Society Human Development , Toba Tek Singh has done relief activities to contribute for the resettlement of the earthquake victims.
Relief Activities
v Two female staff members of the Society Human Development went to the affected areas of Bagh, Bala Kot and Rawla Kot with Action Aid team to work there voluntarily. They made a survey there to know the real needs of the people and then they distributed food, medicines, warm clothes and tents to the affected people.
v 6 trucks full of warm cloths, medicines, dry food, and safe drinking water, milk packs were dispatched to help the people in the affected areas. Ch. Abdul Sattar Disttrict Nazim, Ch. M. Javied Iqbal Tehsil Nazim (sub-district) were invited while the trucks dispatched. These trucks were given to Sungi Development Foundation, Caritas Pakistan and Senator Nasar Mamon, Ex- minister for the Information and Broad casting.
v Delegation of SHD staff members went with truck and met Ch. Shujahat Hussain and Ch. Pervaiz Ellahi in Islamabad and assured them their possible help for the affected people. Senator Nasar Mamon, Ex-minister for the Information and Broad casting were also present at the moment. There SHD team handed over truck and quilts to government representatives.
v SHD sent 8 young men volunteers to work in the earthquake areas. They worked for almost 25 days in Bisians, Ogi, Shawal, Allie of Bala Kot, and Mensahera. They rescued people, provided relief stuff and made surveys of the casualities.
v SHD and Anjaman Barah-e-Khawateen (ABK) made a prayer service on interfaith bases for the mercy of Almighty God for the residents of the affected areas.
v SHD mobilized local organizations like Special Attention Towards Handicap (SATH), Young Christian Students (YCS), Young Christian Workers (YCW), Convent of Jesus and Mary, Teacher's Resource Centre (TRC), Anjaman Bara-e-Khawateen ABK, and Society for Disabled Women (SDW). They started relief activities by forming a committee with the volunteers from all the organizations. They collected goods and money.
v Pakistan Minority Councilors Network (PMCN) collected cash funds and help in kind in District Toba Tek Singh and Faisalabad in collaboration with other political personalities.
v Society for Human Development wrote a letter to National Relief Camp, suggesting them that all the aid from government sector, organizational set up, global help, from civil societies should be canalized to avoid the risk of duplication in helping. The process of help or to provide help should be systematic so that the people of far off villages could also get benefit from it.
v SHD provided school bags, books, pencils, crayons and notebooks, black boards to 265 children. There is no fee or any charges.
v Society for Human Development opened 3 Child Friendly Schools for earthquake-affected children in Kot, Town Ship and Ogi, Mensahera. The total number of these schools is 265 students, 165 girls' 100 boys. 5 SHD staff members 1 male and 4 females are working in Mensahera and Bala Kot. SHD is working on self-help basis with the collaboration of local community, Action Aid and World Vision.